As the alarm on my old Nokia phone buzzed loudly near my ear and the clock read 5.30am, I was up in a flash due to the excitement of what lay ahead, this outweighed the slight headache from a 'couple' of Pisco Sours the night before.
A quick coffee and a couple of breakfast empanadas and we were on our way to the Nazca Airport, the 45 min trip was mixed with excitement and awe as I peered out the window and could see the birds flying over the Nazca Lines, and getting a great look at the lines, yes I was jealous that they snuck in before us, we were meant to be the first flight but I quickly forgave them.
Safety check done, passport check done, sound check done!! And just like that we were walking out to our six-seater plane. I finally knew what astronauts feel like when they do their slo-mo walks to the space shuttle.
They encourage you to not take too many photos as the lines are best enjoyed by the naked eye, so after taking my obligatory photo of the first lines we saw – the monkey, I put my camera down and gazed out the window in amazement. One by one images I had seen in documentaries and magazines appeared before me; publications do not do the size of the Nazca Lines justice.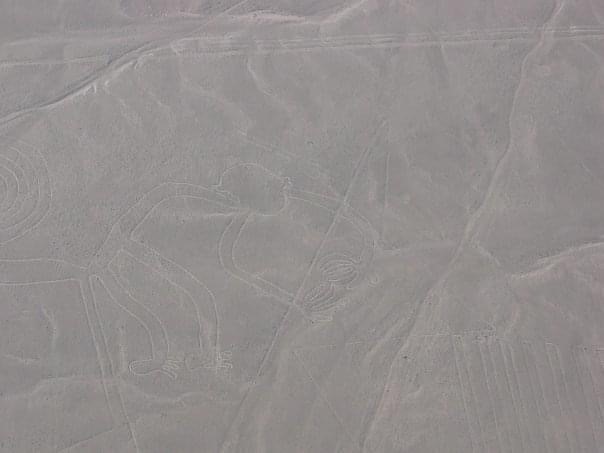 The first glimpse I had of the condor was just before the guide advised us over the headphones that we were approaching it, it was worth the flight to Peru on its own. It is simply stunning, and the intricate lines of the feathers are so detailed. It is mind blowing.
As we approached the airport to land, I considered jumping straight back on another flight and doing it all again, but I thought better of it and realised it could never be as good as the first time.
Back at the hotel, I gazed at the one photo I took on my camera while sipping a Pisco Sour, in my head I could picture every single geoglyph I saw that day, and 10+ years later I can still visualise them.
My three tips for seeing the Nazca Lines:
I highly recommend getting the earliest possible flight, as it's in a desert when the afternoon wind picks up visibility may not be as good.
Head to the Planetarium (Planetario Maria Reiche), gives a great insight in to some of the theories behind the lines and also some of the best star gazing you could possibly see.
Take their advice and minimize how many photos you take and just enjoy it with naked eye.