From its origins as a small fishing village, Hong Kong has emerged as one of the world's most exciting cities.
While it still has traditional elements that bind the story of Asia, it's also extremely diverse and very chic! Even during a short Hong Kong stopover, there is loads of time to pack in some big experiences for Hong Kong to be a major part of your journey.
Choose from international attractions (think Hong Kong Disneyland), unrivalled shopping, and outstanding cuisine with influences from around the world when you decide to take a Hong Kong stopover. These are our hot tips of what to check out for a swift, but satisfying, Hong Kong stopover:
Temple Street Night Markets
Hong Kong is a 24-hour city. So as the sun sets over Victoria Harbour, a new vibe comes alive. Temple Street Night Markets in Kowloon is a great place to start your evening adventure. Pass stall-after-stall of trinkets, jade, silk garments, handbags, sportswear, art, costume jewellery and souvenirs. There are also uniquely Hong Kong stalls such as fortune tellers and opera singers. If street food is your thing, then you can indulge in claypot rice, seafood and noodles.
How to get there :
Take the MTR to Yau Ma Tei Station, Exit C, turn onto Temple Street at Man Ming Lane; or,
Take the MTR to Jordan Station, Exit A. Turn right onto Jordan Road and then take another right onto Temple Street.
There are so many markets in which to while away the hours in. The Ladies Markets in Mongkok are equally popular by the day. Hong Kong Tourism Board has a great guide here.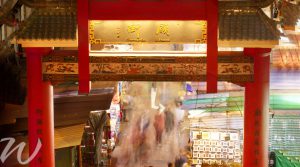 Victoria Peak – "The Peak"
Head to the Hong Kong hills to the Peak – the island's most exclusive neighbourhood where the wealthy built their homes to capture the ocean breeze in colonial times. The real estate here is some of the most expensive in the world. Catch the tram from Hong Kong Island to the summit for stunning views of Victoria Harbour. There are also restaurants and shops up there if you wish to make the most of your time.
Insider Tip – during your Hong Kong stopover, make the most of your time and head up to the Peak in the late afternoon where you can see the city by day and night. Watching the sea of lights come to life is a magical sight.
How to get there:
Walk from MTR Central Station Exit J2 to take the Peak Tram from the Peak Tram Lower Terminus on Garden Road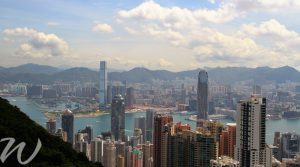 Old Town Central
On Hong Kong Island, beneath the soaring skyline, you can explore the history, arts, food, and culture of the city's oldest and classic neighbourhoods. East and West, past and present, traditions and modernization — they all coexist, blend and collide in this neighbourhood. Head to Wyndham Street, Caine Road, Possession Street and Queen's Road Central, with Hollywood Road, one of the first roads built in the colonial era, as a starting point. Discover heritage, food, arts and hidden treasures in the maze of streets and alleys with this unique exploration.
Hong Kong Disneyland
It's too hard to resist the non-stop fun and happiness during a Hong Kong stopover! If you're staying in Kowloon or Hong Kong Island, the Disney-themed train is an ideal way to start your adventure. Once you arrive, step into a colourful world of themed lands of fantasy and fun. Enjoy the thrill and excitement of first-class rides, meet your favourite Disney characters and watch amazing Broadway-style shows. There are even Disney-themed hotels where you can stay overnight if you wish – these are a great experience for the younger ones or especially the young-at-heart.
How to get there:
Take a taxi or for the full experience, it's a quick trip by MTR to Sunny Bay Station and then all aboard the Mickey Train right to the MTR Disneyland Resort Station.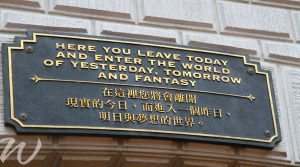 Lantau Island
A day trip to Lantau Island is highly recommended. Buddhist architecture; beaches; shopping outlets – whatever you're searching for, Hong Kong's largest outlying island has it. You can get some rays after your flight on Cheung Sha Beach, or wander through the Po Lin Monastery and it meets the serene Giant Buddha. At Po Lin, you can have delicious vegetarian food as well. Soar over the island on the Ngong Ping Cable Car. Try the amazing Crystal Cabin – it has a glass bottom for a truly bird's eye view underneath your feet!
From the monastery, you can also hike along the Wisdom Path, 38 wooden steles containing verses from the centuries-old Heart Sutra. You will also be treated to stunning views of the South China Sea, because who doesn't love the great outdoors!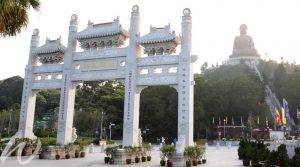 The Food – oh the food!
Dim sum anyone? Hong Kong is famous for its food so arrive with your appetite and stretchy pants ready to go! The ancient Chinese tradition of drinking tea is known as yum cha, and with tea, it's custom to eat little bite sizes dishes which are known as dim sum. Consequently, that's why dim sum is often served at teahouses and always goes with hot tea. This is an essential Hong Kong experience you can find almost anywhere during your stay, including the Lin Heung Teahouse, Sam Hui Yat, and Duen Kee Restaurant on the Chuen Lung mountain, just outside of the main city edge. No Hong Kong stopover would be complete without yum cha!
Hong Kong has a wealth of street food markets and stalls. Try the street market at Upper Lascar Row, or Kowloon City Market influenced by the Thai population. There's even a Nepalese whiskey bar at the Chungking Mansions along Nathan Street.
Epicureans can also rejoice in the incredible international restaurant scene in Hong Kong. Hot tips from the endless list include Lung King Heen (Four Seasons Hotel), Tin Lung Heen (International Commerce Centre), and also Amber (the Landmark Mandarin Oriental Hotel).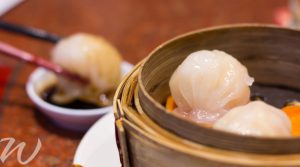 Shopping
Fashionistas, be prepared. Hong Kong has all the top brands of your dreams, plus affordable arts and crafts at high-rise malls and street markets.
The best hunting grounds for low-cost garments are at the eastern end of Granville Rd in Tsim Sha Tsui, and Cheung Sha Wan Rd in Sham Shui Po. The street markets on Temple St in Yau Ma Tei and Tung Choi St in Mong Kok also have the cheapest clothes.
Horizon Plaza is best for seconds and sample clothing, as well as furniture; PMQ for locally handcrafted and designed products, Pacific Place for luxury brands and home-grown high-end labels, and Temple Street Night Market is the spot for fakes, cheap factory goods and souvenirs.
Until 15 March 2018, you can stopover free in Hong Kong when booking selected Southeast Asia, India and Sri Lanka tours. Enquire today!