The Japanese have an innate pride in their food. Respected worldwide, Japanese cuisine has a unique style of preparation and cooking. It is true artisanship and a quintessential slice of the culture of Japan. In fact, in 2013 UNESCO's list of Intangible Cultural Heritage endorsed 'washoku' (Japanese cuisine).
Based on "rules of five," traditional Japanese cuisine, or washoku, emphasizes variety and balance. This is achieved through the use of five colours (black, white, red, yellow, and green). Five cooking techniques (raw food, grilling, steaming, boiling, and frying), and five flavours (sweet, spicy, salty, sour, and bitter).
Rice
At the heart of Japanese food, culture is the modest grain of rice. For over 2,000 years, it has been a staple food and was even currency at one point. Nowadays, it continues to be the base of many meals and part of the national beverage, saké. Rice is central to Japanese food, culture and society.
Seasonal offerings
Until the 1880s, when Japan modernised, eating meat was illegal. Even now, cooking with red meat, oils, fats and dairy products is not overly common in Japanese cuisine. The emphasis is more heavily on seasonal produce and fish. The four seasons are each embodied by their unique offerings.
Kaiseki ryori
The best way to experience seasonal offerings is to go for Kaiseki ryori, Japanese haute cuisine. You will be presented with 12 dishes that have been prepared using various techniques and skills. Each flawlessly highlights the foods and flavours of the current season. Seafood is very much celebrated; head to Tokyo's Tsukiji Fish Market to see the "just off the boat" produce in addition to the precision-like preparation. It doesn't get any fresher. Kaiseki is applauded in Kyoto where it originated, along with the tea ceremony. Each small course, exquisitely arranged on beautiful crockery, is a piece of edible art.
Sushi, tempura & yakitori, oh my!
We have the Japanese to thank for a great many appealing nibbles – sushi, tempura, yakitori are some of the most popular. There is also gyoza dumplings and sashimi, which have become extremely popular in the western world.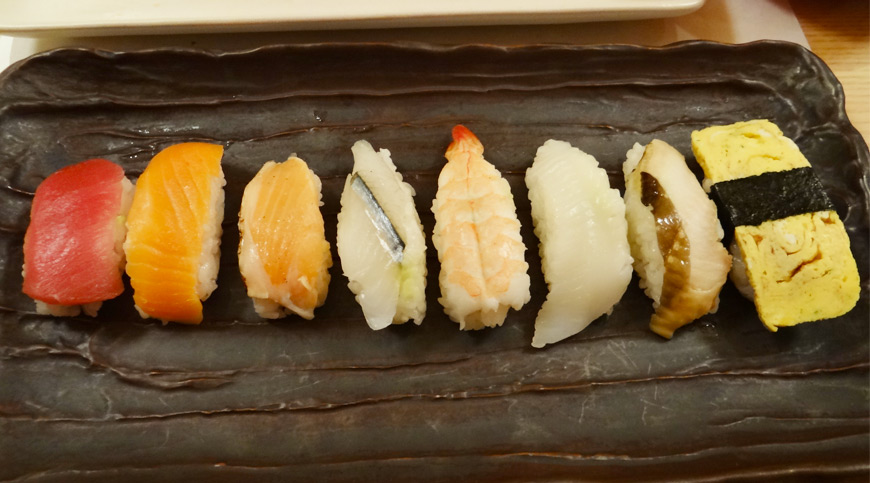 Soba & Udon noodles
Made from buckwheat flour, soba noodles and are as thick as spaghetti. Thicker, whiter and also chewier than soba noodles, Udon noodles are made from wheat flour. Both are widely available at across Japan and prepared in various hot and cold dishes.
Soba noodle-making is a popular hands-on activity for travellers. You can try this yourself during a number of Wendy Wu Tours itineraries.
Sukiyaki
Sukiyaki is a one-pot sensation of beef, vegetables, and tofu cooked in a sweet soy sauce broth using a shallow cast iron pot. It became very popular during the Meiji period when the centuries-long ban on eating meat was lifted. It is the best way to savour Japan's unbelievably rich and tender wagyu beef.
Shabu-Shabu
"Shabu-shabu" is the sound thin slices of beef make while being whooshed around bubbling broth with chopsticks. Can you hear it? Platters of marbled beef will be on the table, ready to cook yourself – it takes the quickest of moments to cook as the meat is so finely cut.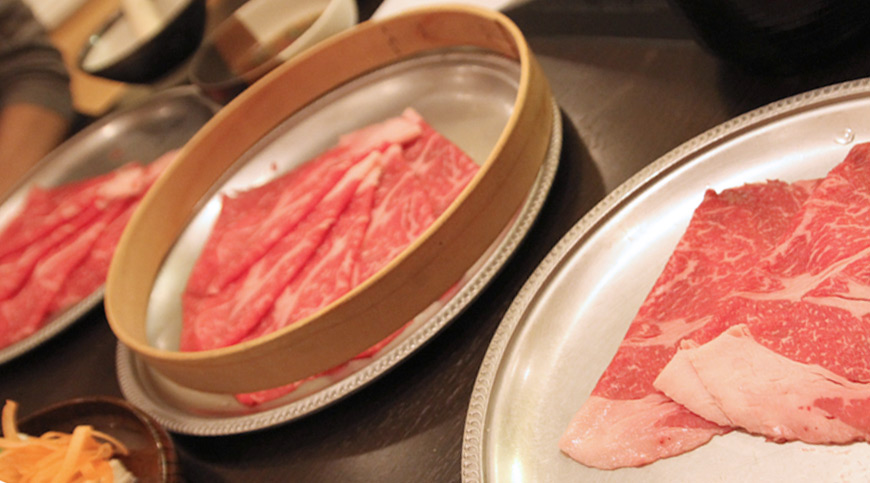 Okonomiyaki
Okonomiyaki (okonomi 'what you like' – yaki 'grilled'), is a savoury pancake jammed full of meat and vegetables. There is debate as to whether Osaka or Hiroshima was the origin of this dish. It is so popular in Hiroshima that there are over 2,000 okonomiyaki restaurants there, in addition to a food theme park, Okonomimura! A typical Hiroshima version has layers of batter, cabbage, and also pork. Plus any optional extras – cheese, squid, octopus, plus noodles, fried egg and lashings of rich okonomiyaki sauce.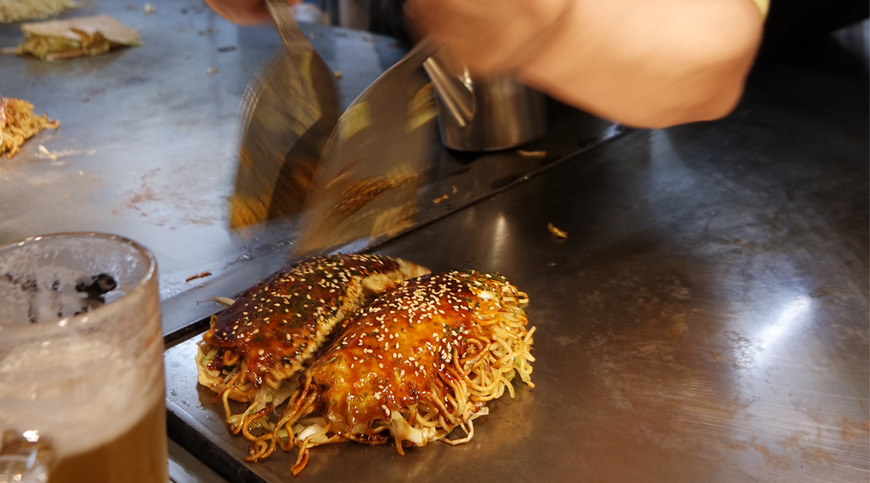 Sweets (Wagashi)
Wagashi are traditional sweets that people enjoy with a cup of green tea. They come in a variety of shapes, colours and consistencies, using assorted ingredients and preparation techniques. Some are popular across the country and year-round, while others are only available regionally or seasonally. Sweet azuki bean paste (anko) is a dominant ingredient in many Japanese sweets. Other popular ingredients include rice cakes (mochi), rice flour, Japanese agar (kanten), sesame paste and also chestnuts.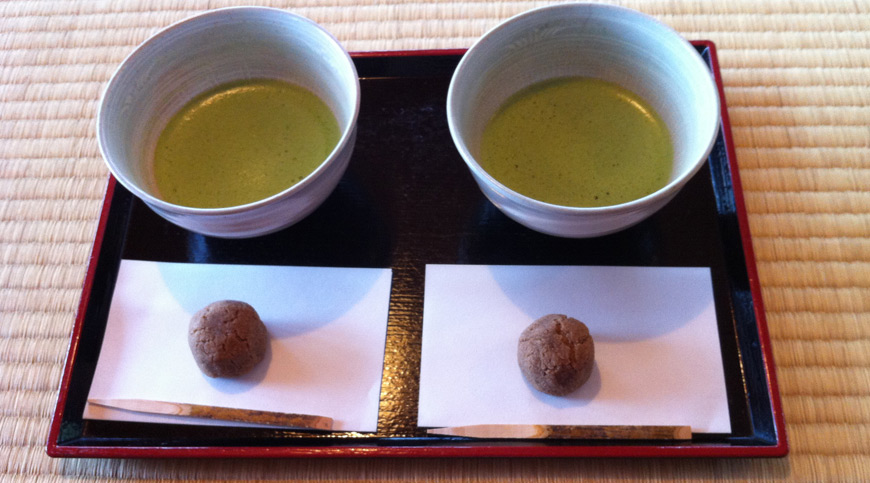 Dining out in Japan is not just about drilling down into the culture; it is also about immersing yourself in a different way of eating. Many restaurants in Japan specialise in one particular dish and do it to perfection, with more expertise and flair than you could imagine. Tokyo now boasts more Michelin-starred restaurants than Paris, verifying how seriously the Japanese are about food.
You should now have the confidence to tickle your taste buds with some Japanese cuisine. Chopsticks at the ready!
Check out some of our most popular Japan itineraries today!