Georgia is one of those delicious secrets that you're both desperate to share and to keep to yourself – sharing it means everyone gets to experience its wonders but keeping it quiet means, it stays exactly as it is, undiscovered.
Clinging to the edge of Europe but with one foot firmly in Asia, this is country that was part of powerful ancient empires, was a strategic point on the Silk Road and, in more recent history, was hidden behind the Iron Curtain.
Despite its re-emergence as an independent nation in 1991, we are only just waking up to its many delights. Holidays to Georgia offer spectacular mountain landscapes thanks to the snowy peaks of the Caucasus, lush valleys, beautiful beaches, vibrant, forward-thinking cities and more rich and fascinating heritage than you can shake a stick at.
But where to begin? Why right here, with our list of the nine things that you must see and do in Georgia…
1. Wine, wine and more wine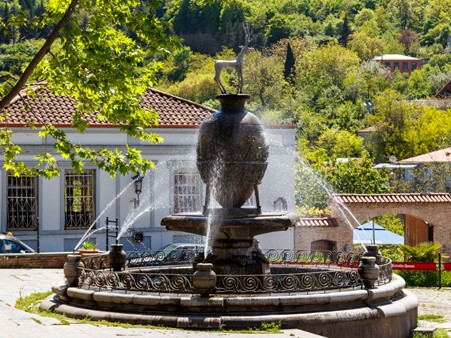 It may be surprising to hear that Georgia is one of the world's oldest wine producers, the oldest according to the 8,000-year-old pottery shards that still had ancient traces of the good stuff on them.
So wouldn't it be rude not to do a wine-tasting, or two…or three? Produced using a traditional technique that involves leaving the wine in contact with the skin and stalks, and aging it underground, Georgian wine may well be different but it's no less delicious than the vintages we're used to. Kakheti is one of the most famous wine producing regions, a landscape of regimented lines of vines, dotted with quaint villages and wineries. The Khareba Winery is a must – its wine tunnels hold 25,000+ bottles!
2. Sighnaghi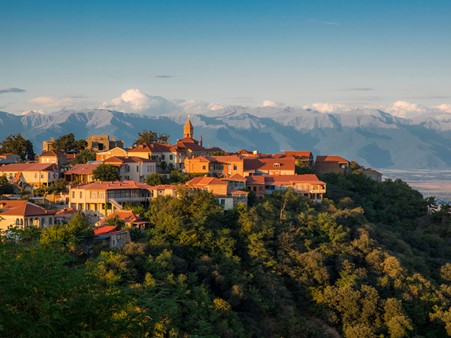 Situated on a lofty hilltop overlooking the Alazani Valley and watched over itself by the snowy peaks of the Caucasus, Sighnaghi is often lauded as Georgia's most attractive town. Along with its good looks it also has bags of charm; it's 18th and 19th century architecture beautifully preserved. This is a place to stroll and explore, soaking up the atmosphere and a couple more glasses of that Georgian wine we talked about.
3. Mtskheta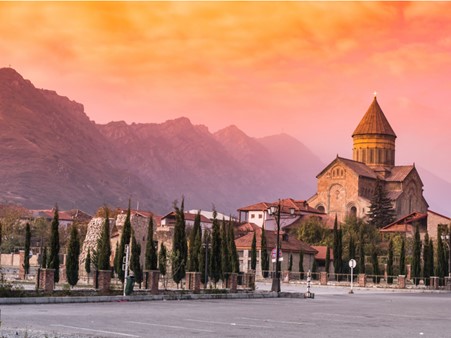 The root of Georgia's Christian faith and playing a central role in the national psyche, this ancient UNESCO World Heritage-listed town is Georgia's spiritual soul. Having existed since at least the 3rd century BC, the history here is epic and easily explored – all you have to do is wander the timeless streets. Head to Svetitskhoveli Cathedral to see Georgia's most important house of worship and the place that it is said to be the keeper of the Robe of Christ.
4. Cave Towns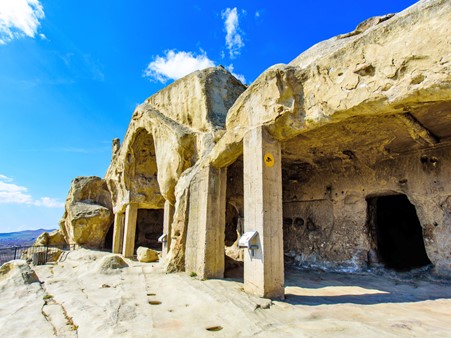 Just having one cave town is pretty impressive, but Georgia has two! Uplistsikhe dates from the 1st millennium BC and is made up of dwellings, churches, cellars and much more hewn straight out of the rock. Close to the route of the Silk Road, it was in a prime position to profit from its comings and goings. Vardzia is reached by a dramatic drive through the colossal landscapes of the Great Caucasus, and as well as boasting caves, tunnels and churches it also has some lovely frescoes to admire.
5. Tbilisi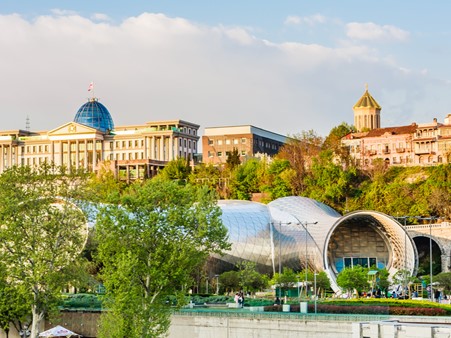 In common with many capital cities Tbilisi is a microcosm of the whole country, a bit of all the cultures combined, the heritage of all the people who call it home and a place to taste all the local specialities…what's not to love?
As well as being a fantastically representative of its country – one in three of Georgia's residents live here – Tbilisi is cosmopolitan, colourful and downright cool. The old town is particularly delightful to explore, with narrow old lanes, balconied houses and airy squares surrounding the magnificent 17th century Narikala Fortress. Tbilisi also has a fabulous dining scene and, interestingly, is really into techno music!
6. Borjomi
Georgia's very own spa town, Borjomi was the Soviet Union's go-to place for fancy water – a uniquely flavoured naturally fizzy spring water! You can either drink the water or take a dip in the warm sulphur baths, while admiring the resort's Soviet architecture and enjoying the natural setting of thick forest stretching as far as the eye can see.
8. Gelati Monastery
Another UNESCO World Heritage Site, Gelati is a monastery complex nestled on a wooded hillside. It is one of Georgia's most important churches – once you get inside and admire the colourful frescoes, you'll see why! Founded as a place of Christian learning, it is a prime example of medieval 'Golden Age' architecture and is also the burial place of many past rulers, including the rather unimpressively named, David the Builder.
9. Khachapuri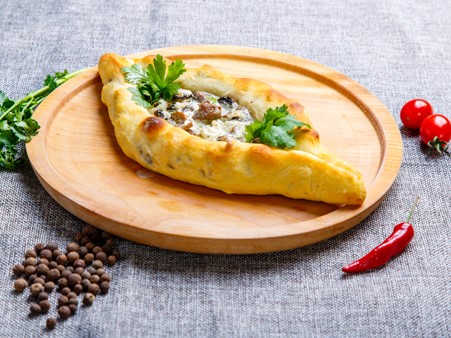 Georgian cheese bread. Need we say more? Oh, it's probably worth mentioning that it goes well with the wine.
If you love the sound of Georgia, why not embark on an adventure through the Caucasus with our Georgia, Armenia and Azerbaijan tour.