When you think of Japan, I bet the following things come to mind – sushi, geisha and cherry blossoms, right? I'm sure you have a picture in your mind of the blanket of pink and white blossoms dotting the landscape with their gentle beauty. Well, there is another turning of the seasons in Japan that is just as beautiful – Japan autumn leaves.
During a Japan autumn, the viewing of vibrant leaves is a popular activity for the locals. As the weather starts to cool in November, the maple and gingko trees become ablaze with shades of red, orange, and yellow. The leaves spread from north to south, the opposite of their cherry blossom counterparts.
The average time to view the autumn foliage will vary depending on the temperatures. You can check the published autumn foliage forecast online in the lead-up to the Japan autumn season.
Generally, the eruptions of warm colour come to life around Tokyo and Kyoto from mid/late November into early December. Travellers typically overlook this season in favour of the cherry blossoms, but the Japan autumn leaves are just as impressive. In addition, the weather tends to be sunny and quite warm, making it a great time of year to travel to Japan. The weather is just perfect for hunting momiji (red leaves).
There are many ways to enjoy the Japan autumn leaves. Some of Japan's most famous locations come to life. The blazing trees further enrich the Japanese Alps, temples, parklands, and streets.
Here are our top recommendations of places to visit:
Mt Fuji in a Japan autumn is stunning. Around the banks of Kawaguchi-ko, the red maples create a beautiful contrast. There also tends to be fewer tourists at this time of year – a huge bonus.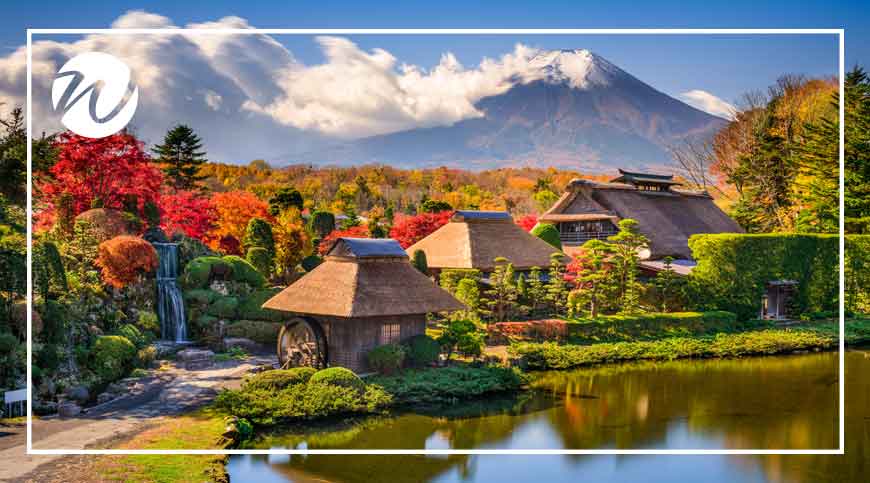 Village near Mt Fuji ablaze with colour
Kyoto's temples, shrines, and gardens are some of the most amazing locations to see the Japan autumn leaves. Head to Kiyomizu-dera and the Arashiyama district for some seriously impressive foliage and colour. At Kiyomizu-dera, you will be able to stand on the wooden stage and look down across the maple trees below.
In Tokyo, the famous Gingko Avenue (Icho Namiki) is lined with yellow-coloured gingko trees. A wander through Rikugien Park will also place you amongst a wonderful variety of Japan autumn colours. Rikugien Park, a traditional Edo garden is open at night with exceptional illuminations of the trees during peak autumn leaves season.
If you're in Kanazawa, explore the impressive temples, shrines, and also gardens – especially Kenrokuen Garden, known as one of the top three landscaped gardens in Japan.
So, when will you next be heading to the land of the rising sun? For Japan's spring Cherry blossoms? Or Japan's autumn leaves? Both will give you incredible surroundings in which to explore – you can't go wrong, really! View our Japan tours today.
Check out our Special Offers and some of our most popular blogs:
Asia Bucket List: 11 Ultimate Alternatives in Asia
A Beginners Guide to Japan's Onsen Culture