Chinese New Year (also known as Spring Festival) is the most important celebration on the Chinese calendar – a time for the family to get together, eat delicious food, and welcome new beginnings.
After recovering from the December 31st festivities, most of us are now back to the daily grind! So Chinese New Year brings the perfect opportunity to get back out and celebrate. For those of you less familiar with the event, here's the lowdown.
I feel like we just celebrated New Year…
Indeed many of us did! While January 1st marks the start of the Gregorian (solar) calendar, based on the Earth moving around the sun, Chinese New Year is dependent on the Lunar calendar.
As a result, Chinese New Year falls on a different date each year and so in 2017 January 28th, 2017 is the time to celebrate!
The Lunar Calendar – what is it?
Did you know that the Lunar calendar is based on the cycles of the moon? This is divided into 24 solar terms – similar to Western months.
Originating in ancient China, these solar terms denote climate and are used for agricultural planning. Each lunar month is around two days shorter than a solar month. So, in order to "catch up" with the solar calendar, an extra month is inserted every few years. This is why, according to the solar calendar, the Chinese New Year falls on a different date.
While China has adopted the Gregorian (Western) calendar for business and official purposes, the Lunar calendar is still used to define traditional holidays. It's also used for horoscopes and to help select auspicious dates for life events. These are especially relevant to occasions such as travel, moving house, business activity and marriage.
Celebrations in China
Chinese New Year is a time for the family to gather. Those living away travel great distances to return home for the holiday, making this the biggest mass migration of people on Earth. Airports, railway stations, buses and roads overflow with returnees as the world's second-biggest economy shuts down for the week-long festival. While thousands of expatriates return to China, there is a recent trend for young Chinese to use the holiday to travel overseas.
As with many events around the world, Chinese New Year brings unique traditions. Here are just a few:
New year, new start


Houses are cleaned, debts are paid. New clothes are purchased, doors are painted and people get new haircuts. All to usher in the new year with a fresh start!
NYE dinner

Typically held at home rather than a restaurant, the New Year's Eve dinner is all about a family reunion. Fish is usually served, along with dumplings in Northern China – these two dishes signify prosperity.

Decorations

Homes are adorned with banners of red and gold. This represents happiness and prosperity. Lanterns and intricately-cut paper decorations are also popular.

Exchanging gifts

Small red envelopes are traditionally given to children by their family and friends. These are filled with 'lucky money'. Containing anywhere from one to 1000 Yuan (around 20cents to AU$190), some believe the money will bring children health and longevity. It is also believed to protect them from evil.

Dragons

A symbol of strength and good luck, the dragon is a popular emblem for Chinese New Year. No parade is complete without a colourful dragon costume, often up to 30-metres-long. Dragons dance through the streets as the people inside make them dance.
Fireworks

Night skies light up with bursts of colour. While these displays are about more than just sparkle – some believe the noise scares off evil spirits.
Global festivities
Celebrations around the world are pretty easy to find – just head to Chinatown and look out for the lanterns and dancing lions.
Singapore's large Chinese population celebrates in style; elaborate decorations adorn the city and fireworks light up the sky. The atmosphere in Kuala Lumpur is joyous but relaxed. Households open their doors to family and friends and decorations abound. San Francisco hosts one of the largest parades outside Asia. Including a 60-metre-long Golden Dragon and over 600,000 firecrackers!
Melbourne is known for its great food, and Chinese New Year provides plenty of it. Along with fireworks, spectacular dragons are set to take over the city.
Sydney landmarks will glow red this year, setting the scene for a fortnight of activity including dragon boat races and a performance program with traditional dance, kung fu and plenty of food. It is said that a massive one million people are set to attend!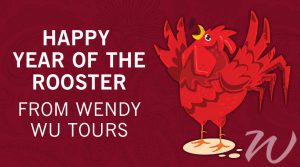 Year of the Rooster
According to the Chinese zodiac, 2017 is the year of the Rooster. People born in 1921, 1933, 1945, 1957, 1969, 1981, 1993, 2005 are also Roosters.
Said to be hardworking and independent the Rooster is also courageous and capable with a tendency to be a little eccentric and impatient at times. The Rooster is also known to have a kind heart and full of humour!
What's in store for 2017?
If you're feeling exhausted after 2016, you are not alone! The year of the Monkey was a year of flux.
For 2017, be sure to organise yourself with practical solutions for the fresh challenges you may face! This will assist you in order to progress successfully through the next 12 months. Put your best foot forward and set clear intentions concerning love, business and money matters. Risky ventures are not advisable to keep to well-proven paths to ensure success.