Hello from Bishkek, Kyrgyzstan!
Central Asia is an incredible place. We flew to Urumqi, China with China Southern (not bad). Urumqi is the most inland city in the world – the most distant from the sea. Stayed overnight then flew to Kashgar (Kashi in Beijing Chinese vocab). Both very interesting places.
Highly Muslim – the Uighurs – who have been here for centuries. Their few troublemakers seem to want a separate state – they're already a separate entity within China as are four other areas. The Govt has decided, I reckon, to populate them into minority and has imported many Han Chinese who have taken all the top positions in Govt and business and deny opportunities to the Uighars. More trouble to come methinks. Both cities are pretty modern and moving ahead fast but they're not as modern as Shanghai.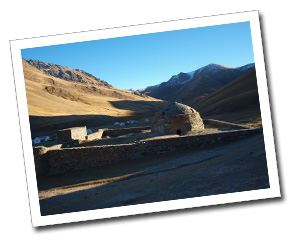 We then drove with our party of 15 – one Brit, one Kiwi, the rest from Aust although four incl us are Kiwis. There were concerns that at 68 and 64 we would be the oldest and least fit but our worries were unfounded. We are about mid-range in age and amongst the fittest, but the rest aren't disabled or infirm, just slower.
We entered Kyrgyzstan via the Torugart Pass. The bureaucracy at the border or several lines of the border as it transpired – about eight as I recall – was very time-delaying. The drive of about 350kms took us about 14 hours, about a third of the distance on very poor roads. The toilet facilities deteriorated rapidly as we headed west and at their worst were as poor as I've ever seen.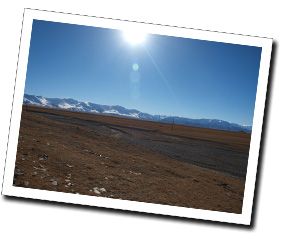 The scenery, however, was breathtaking! After the desert plains near Kashgar, we steadily rose to about 4,000m and above the snowline. The countryside was as dry as a bone but beautiful and any people we met when stopped were friendly. Barely a word of English though. We finally arrived in Naryn and after a night there moved to Kochkor Village where we stayed in local home-stay accommodation.
Because there is little tourism infrastructure, the Kyrgyzstan Govt has introduced a venture called Community Based Tourism (CBT) where families are encouraged to create either accommodation or dining facilities (sometimes both) in their homes. Thankfully, in many, there are also Western-style toilets.
We stayed with two other couples in one large house while the other nine singles were in another place up the road. The accommodation was fine and although the facilities were about 1.5 stars by Sydney standards, they were dry and comfortable.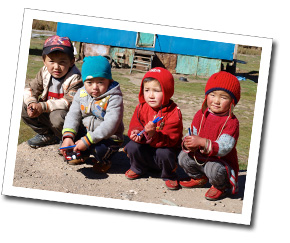 Only 6% of Kyrgyzstan is at sea-level and the average height of the country is 2400m. The people are friendly, speak no English and don't see many tourists. The food here is bountiful and hearty and a welcome change after repetitive Chinese meals. This area (actually a bit north of here in Kazakhstan) was the first place to domesticate horses.
They are quarter-horses and they are always in view in the countryside.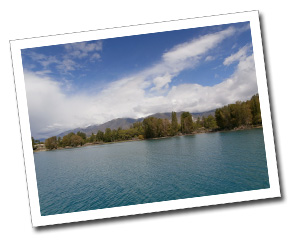 We are travelling in a very good bus led by our Kyrgyz guide Farhad who is excellent. Good English, youngish and knowledgeable. He spent a year in the US on a scholarship.
On to Kalakor past Issy Kul, the second largest navigable alpine lake (behind Lake Titicaca in Bolivia) – 170km long.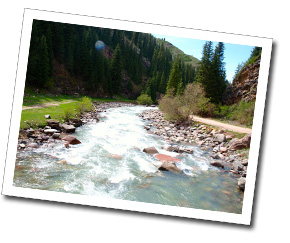 Here we went to the animal market, a colourful, lively, almost frantic and very crowded place. Dusty as hell and mud underfoot but very interesting.
They turn up with their sheep, cows, horses, goats, whatever and stand there waiting for someone to buy them. The buyers haul the animals off and stuff them in their cars. we watched a guy truss a goat then put it in the boot of a very old and battered Lada and another group trying to put five lambs in the back of a small clapped-out 4WD. Hilarious.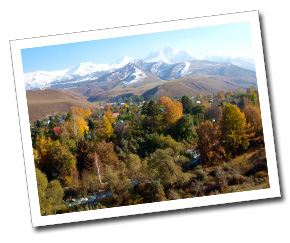 We got to the capital Bishkek late yesterday after two nights in a pleasant hotel in Cholpon-Ata, a resort area in the summer. Today we fly to Tashkent the capital of Uzbekistan. That promises to be a desert-ridden country but full of wonderful architecture.
All the way so far we have seen beautiful autumn colours across the amazing landscapes. In summary, Kyrgyzstan is a pretty place with a lot of spectacular scenery. The country is somewhat poor but not quite 3rd world. The people seem happy and well-dressed. They are socialist and, although independent, almost always do what Russia wants, but extract a price for that compliance. They are a developing nation. Not somewhere I need to return but it's been a privilege being here.