We stayed one night in Tashkent and return here before we head home. Little time to sightsee but the city appears modern and sophisticated.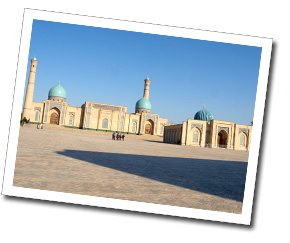 We flew Uzbekistan Air (another modern Boeing 757) to Urgench than drove to the historic city of Khiva. Our hotel was very comfortable and just outside one of the gates into the Old City which is surrounded by massive mud-brick walls and towers – a real Arabian style fortress.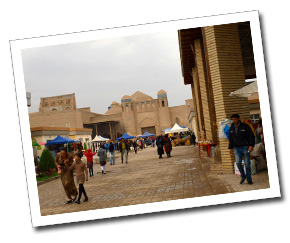 In our 2.5 days there we saw many mosques, madrassas (religious schools), bazaars, minarets, etc. It was very colourful and the people were friendly and polite although there is only a little English spoken. The Muslim influence is apparent but very muted.
Only about a third of the women wore headscarves and there were no burqas or niqabs in sight. The older men sometimes wore a cap.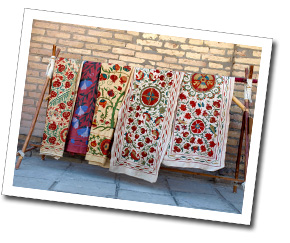 The young women are inclined to dress in a modern Arab style which is similar to western dress and the young men like conservative westerners. The children are dressed only a little differently to Aussie kids.
The buildings we saw and the associated history of this area show how ignorant we are of history, culture and development of Central Asia or what is happening here.
In the countryside, there is a distinctly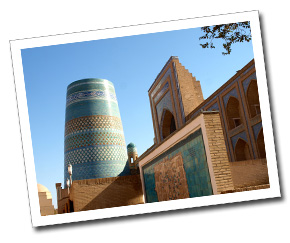 Soviet feel to things which isn't surprising because they were a part of the USSR until about 1991 and are still strong sympathisers, although not to the extent that they are seeking to merge back as part of Russia.
Although we are reasonably close to Afghanistan (500 miles) and several hotspots, there is no apparent threat or suggestion of same. It feels very safe and would be quite OK for an independent traveller, with a guide of course because
everything is in either Uzbek or Russian or both and little in English.
The architecture is magnificent – colourful, patterned, unique in its design. Efforts by initially the Soviets and more recently, but to a much lesser degree, by UNESCO and others to restore buildings and historic sites have been good but far too little so far.
Many will be lost I fear because of lack of funds.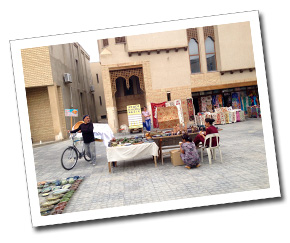 Such is life. You can't save everything but when you think of some of the rubbish that people are trying to save in Australia and NZ, they are misdirecting their money.
Our guides in the various places have ranged from very good to excellent. Our group of 14 is also accompanied by an experienced Wendy Wu consultant who has been here several times.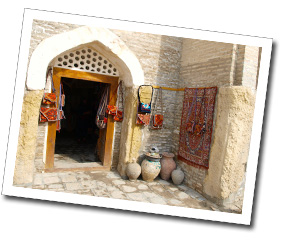 We drove from Khiva for 8 hours. SE down to Bukhara along a mainly poorly surfaced road and through the genuine desert, similar to the Nullabor. Quite a trip but the reward is Bukhara where I write this.
This is the religious city of the area but it is not as Islamised as I'd thought it would be and the until-recent Soviet presence is evident.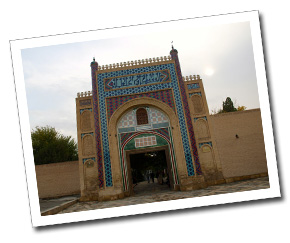 Regardless this is a historic Silk Road city with beautiful buildings, mosques, etc and many colourful bazaars. Like Khiva, it needs funds to restore stuff but they'll never come in time and some things will be lost.
The clay-coloured walls of buildings are coloured with beautifully patterned tilework, mainly blue and white but not always. My photos will not do the area justice.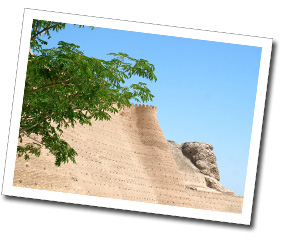 The food has been fine. Plenty of salads, vegetables, soup, meat and the like although the combinations aren't always what we would expect.
The tea is good, the coffee strong but OK, the beer fine and the wine just passable. The Italians are here helping the Uzbeks develop this industry but they are a long way off yet. Cotton is the dominant crop here.
Tomorrow we drive to Samarkand, our final Silk Road destination. Darn it – we'll be home in 8 days !!