Samarkand is a truly remarkable place and its epicentre, Registan Square, is one of the most beautiful places in which you could spend time. It comprises a huge square surrounded by three medressas (religious learning centres) all built around 15th century but the ravages of time, lack of maintenance, war and earthquakes saw it badly neglected until the 1930s when the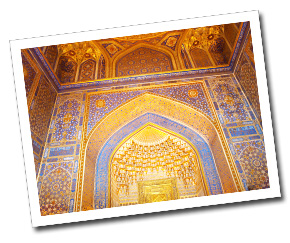 Soviets spent a lot of time and money restoring much of it. They did a great, if not perfect, job. Since then there has been a continual drive to keep it upgraded – it is Uzbekistan's main tourist drawcard although, that said, they have many more. However, it is the eye of the needle.
Nothing I can say, even with accompanying photos, can explain the beauty of the architecture in Samarkand.
We think and say a lot about Muslims.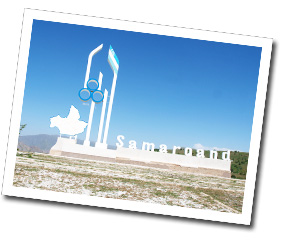 A visit to Uzbekistan – and Kyrgyzstan for that matter – may soften any hard feelings you have. This seems far different from all the other Muslim countries we have visited, especially those in the Middle East. Certainly not a hotbed of radicalism. I suspect it's a combination of the absence of fundamentalists and having had the Soviets in charge for quite a while until recently.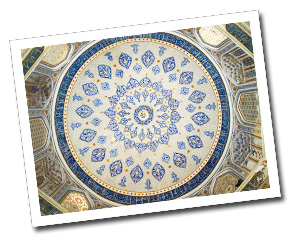 Their scholars are renowned but unknown to us because we learnt under a "British" system. Nothing wrong with that but it was somewhat narrow. For example, today we visited an Observatory built by Mirza Ulugbek. He was the grandson of, and succeeded the great Timur – or Tamurlane as he is sometimes known.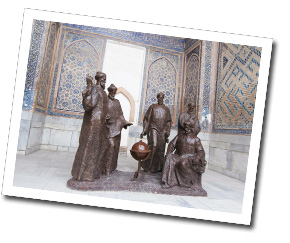 Tamurlane's and later Ulugbek's kingdoms were huge and stretched from the Med to Delhi. Tamurlane, for all that he was the conqueror in the style of Alexander the Great, introduced cultural activities (music, art, etc) and strongly encouraged them. His grandson Ulugbek developed a strong scientific and mathematical movement during his reign.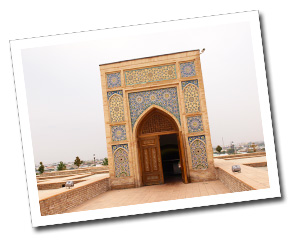 Ulugbeks Observatory, operating well before Galileo introduced the telescope, charted the skies very accurately. He accurately located and named about 1100 stars, determined the length of a year to within 58 seconds, etc, etc. He is regarded as one of the great early astronomers and thinkers yet we've never heard of him. I could go on but I'm sure you get my drift.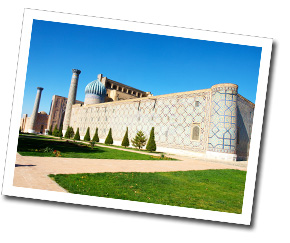 Samarkand is full of mosques, mausoleums, medressas and Islamic looking buildings. Mainly built with mud brick and straw. Covered in plaster or mosaic tiling of a style and colouring that is alluring. It's just an amazing sight.
The interesting thing though is I have no emotional attachment to any of it.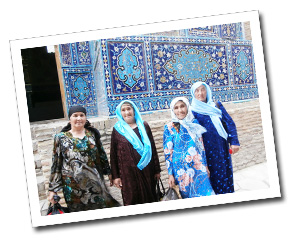 I'm intrigued by and admire the construction and the beauty of the structures and their style. I love the look of the entry gates, the domes and tiling but I have no connection with it.
The people are very friendly The children all wanting to say "hello" – they now learn English at school. Though that's only a very recent introduction.
We have had a few people in our group of 15 suffer minor bouts of the usual travellers problems but only one of any concern. Tomorrow we drive 5 hours to Tashkent. It's the start of our eventual homeward slog. It's been a great tour to date. Hard to think that I'll be playing golf in Sydney next Friday.