Valued customer, Michele travelled to Vietnam on our Vietnam at a Glance tour. Here, Michele tells us about her highlights and just getting in to see Halong Bay before global travel halted.

Vietnam had been on my bucket list for as long as I could remember, so when I booked it in October last year, I was so excited and was already counting down the days! As a solo traveller, Wendy Wu Tours was the perfect choice.

As the time was getting closer, I was starting to feel some nerves. COVID-19 was emerging and my family and friends were a bit apprehensive about me going. I was keeping a very close eye on the travel warnings and praying it would still be safe to travel to Vietnam by the time I was ready to go.
Come March and off I went! I left a very cool Tassie morning and landed in a very hot Ho Chi Minh City eight hours later. The heat literally felt like a slap in the face, and I loved it!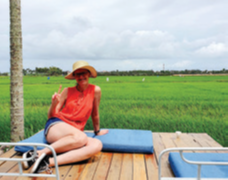 Relaxing by the rice paddies
First day, after meeting my fellow travellers and our tour guide Tuan, I embarked on what would be an amazing 12-day journey through Vietnam.
So many amazing highlights, however the things that stood out for me was the amazing food! I tried my first Pho in Saigon and it was delicious!

Vietnamese food is yummy, fresh and vibrant.
Other highlights included:
Learning to cross the road while doing my best to dodge the traffic.
Riding a bicycle through the rice fields outside Hoi An.
Walking through ancient town in Hoi An and being completed mesmerised by this gorgeous place. Tasting my first egg coffee in Hanoi and loving it.
Sailing up the Mekong River.
Cruising overnight in Halong Bay and just enjoying the peace and tranquillity.
This is just to name a few!
Towards the end the tour though, COVID-19 was taking off. A lot of restaurants and tourist attractions were closing down. We were the last tour group to go through Halong Bay before they shut it down. I count my lucky stars! I absolutely loved Vietnam! The history, the food, the sights and the beautiful Vietnamese people who made me feel welcome in their country. Simply amazing!
Our tour guide Tuan was awesome! Very knowledgeable and always on hand to give advice and ideas of where to go and what to do in our spare time.
I left a little piece of my heart there and I can't wait to go back!
---