Turn your Christmas leftovers into an Asian-inspired festive feast!
Christmas Day is the day for one of our greatest food celebrations, but by the first ball of the Boxing Day Test Match, the turkey is now as appealing as a devon sandwich.
With fragrant spices that take you to colourful food markets, Asian cuisine is the ideal at-home-post-Christmas cultural experience. With all the staple ingredients already in the fridge, it's quick and easy!
Here are some fabulous recipes that will take you on a culinary journey to China, India and Japan, and make you feel good after the big Christmas Day binge…
From China:
Seafood Congee (From The Woks of Life) http://thewoksoflife.com/2017/11/seafood-congee/
This recipe is the perfect way to use any leftover seafood.
Prep 30 mins, Cooking 1 hour
8 ounces whole prawns (heads on, with shells)
2 crab, about a ½ pound total
3 tablespoons oil
4 large slices of ginger, julienned
10 cups water
1 cup frozen white rice
1 tablespoon Shaoxing wine
Salt, to taste
¼ teaspoon ground white pepper
1 handful chopped coriander
1 handful chopped of spring onion
Method
Rinse the prawns under cold water, and remove the heads (don't throw them away though) and de-vein. Pat the prawns dry with paper towels and set aside both the prawns and the heads in the fridge. For the crab, lift off the top shell of each crab and rinse clean. Cut the cleaned crab into 4-6 pieces, and set aside in the refrigerator.
Heat the oil in a thick-bottomed soup pot over medium heat. Stir-fry the prawn heads along with half of the julienned ginger for a couple of minutes, until they turn crispy and the oil turns a deep red colour. Then add the water, and bring it to a boil. Turn down the heat to medium-low, and simmer for 10 minutes. After 10 minutes, turn off the heat, and scoop out/discard the shrimp heads. Next, add the frozen white rice and Shaoxing wine, bring to a boil again, and cook for 15 minutes over medium heat. The congee should be bubbling gently. Remember to stir from the bottom periodically to prevent the rice from sticking. After 15 minutes, add in the cleaned shrimp and crab.
Stir, cover, and cook for another 10 minutes – until the shrimp and crab are cooked through. Serve your Seafood congee immediately and hot!
From Japan:
Watercress and Shabu Pork Harusame Salad (from The Japan Centre) https://www.japancentre.com/en/recipes/1664-watercress-and-shabu-pork-harusame-salad
Prep 10mins, Cooking 20mins
The distinct dishes of Japan are healthy light and fresh. Here is a spicy but cool dish for a hot Aussie post-Christmas day meal.
300g thinly sliced pork for shabu shabu
50g harusame noodles
¼ onion
1 bunch watercress
4 lemon slices
10g dried wakame seaweed
1 red chilli
For the dressing:
1 tbsp soy sauce
½ tsp salt
1 tbsp sugar
½ tsp broad bean chilli paste
2 tbsp sesame oil
Method:
Bring a saucepan of water to the boil, and boil the pork until cooked through; about 2-3 mins. In a separate saucepan, bring water to the boil and cook the harusame noodles, drain and set the pork and noodles aside. In a small bowl of water, rehydrate the wakame seaweed for 5 mins. Drain excess water and cut into bite-sized pieces. Thinly slice the onion and cut the lemon slices into quarters. Thinly slice the red chilli into rounds. Wash the watercress if necessary. Mix all the ingredients for the dressing in a small bowl. Set aside. For the salad, divide the harusame noodles amongst 4 bowls. Top with the pork slices, then the watercress, onions, and wakame. Add dressing and garnish with lemon slices and red chillies.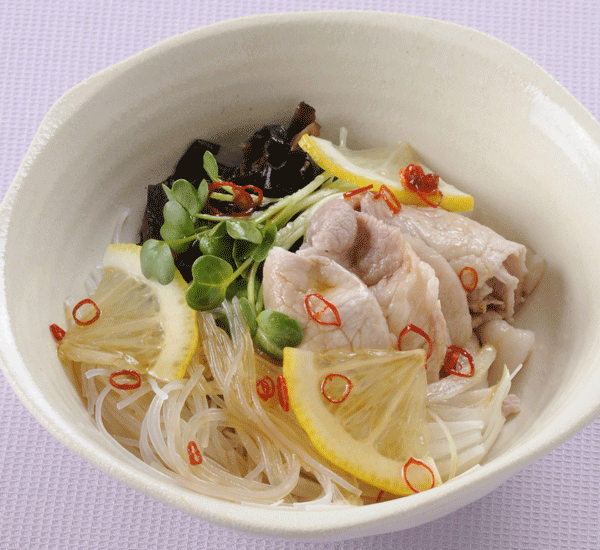 From India:
Indian Spiced Greens (BBC Good Food Magazine) https://www.bbcgoodfood.com/recipes/5823/indian-spiced-greens
Don't throw the leftover veggies! Use any and all of your greens, from shredded kale to brussels sprouts for this flavoursome dish.
Prep 10mins, Cooking 15mins
1 tbsp vegetable oil
1 tsp cumin seed
½ tsp mustard seed
4 green chillies, finely chopped
Large piece fresh root ginger
½ tsp turmeric
500g any shredded greens
100g peas
Juice 1 lemon
½ tsp ground coriander
Small bunch coriander, roughly chopped
2 tbsp unsweetened desiccated coconut
Method:
Heat the oil in a large non-stick pan or wok, sizzle the cumin and mustard seeds for 1 min, then add the chilli, ginger and turmeric. Fry until aromatic, then add the greens, a pinch of salt, a splash of water and the peas. Cover the pan and cook for 4-5 mins until the greens have wilted. Add the lemon juice, ground coriander, half the fresh coriander and half the desiccated coconut, then toss everything together. Pile into a serving dish and scatter with the rest of the coconut and coriander.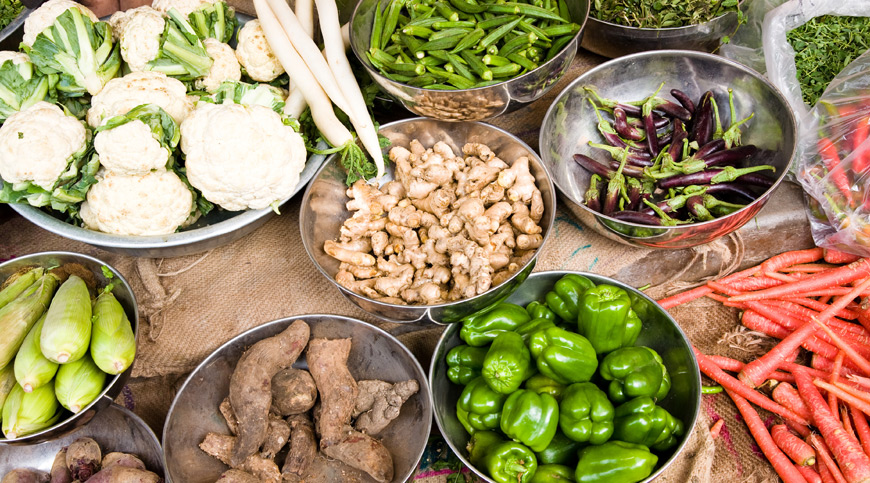 From China:
Chinese Green Beans with Turkey (by The Weary Chef) https://wearychef.com/asian-greenbean-turkey-ricebowl/
There's no better way to use hero of the Christmas feast, the turkey, than in a tasty blend of Chinese sauces.
1 cup medium grain rice, uncooked
1 small bunch green onions, sliced thin
2 cloves garlic, minced or crushed
1 tablespoon sesame oil
Thinly sliced turkey (about a handful per person)
2 tablespoons chilli garlic sauce
2 tablespoons hoisin sauce
1 teaspoon crushed ginger
1/2kg washed and trimmed green beans, or Chinese long beans if available
1 tablespoon soy sauce
1 tablespoon seasoned rice vinegar
Method:
Start rice cooking in lightly salted water. When rice is about 15 minutes from done, heat large skillet over high heat. Add sesame oil, and sauté green onions and garlic for about 2 minutes. Stir in ground turkey and sauté 3-5 minutes, until meat is mostly cooked. Crumble meat as much as possible. Stir in chilli garlic sauce, hoisin sauce, and ginger. Add green beans and soy sauce, and stir to coat. Continue cooking over high heat for 7-9 minutes longer, stirring frequently, until beans are slightly tender. Stir in rice vinegar, and cook one minute longer. Serve over cooked rice.