Hoi An
Hoi An is a cosmopolitan melting pot and is a popular retreat for many visitors to Vietnam, who come here to hang out for a few days and enjoy this delightful, atmospheric town.
Hoi An was an important port on a major trading route the town has influences that can be traced back to China and Japan. The harbour is still a thriving trading centre for the local people and the quaint streets of Hoi An ooze an amazing history. The city has managed to escape the vast traffic challenges of other Vietnamese in recent years ensuring that it is perfect for relaxation.
After absorbing the fascinating history, the local cafés and petty streets provide an ample spectacle for a stroll in the afternoon, alternatively, head off to Cham Island.
Hoi An is a great place to take a break during any tour of South East Asia.
Top tours visiting Hoi An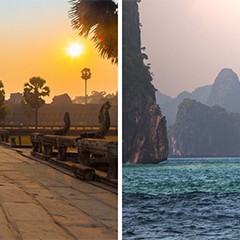 Angkor to the Bay

16 Days from

4,580pp
One of our most popular tours which takes you on a voyage of discovery – from the breathtaking majesty of the temples of Angkor, through to the spectacular natural grandeur of Halong Bay – experiencing all manner of delights en route.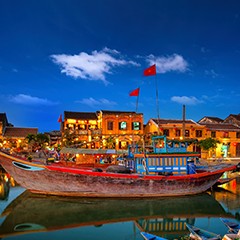 Vietnam Panorama

18 Days from

3,880pp
Travel overland through the verdant south of Vietnam – from the riverside life of the Mekong to lush and fresh Dalat, then up the beautiful coastline to ancient Hue. Finish off by exploring colonial Hanoi and cruising on tranquil Halong Bay.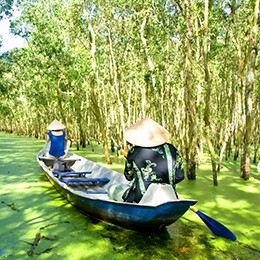 Vietnam at a Glance

12 Days from

3,280pp
Relish Vietnam's distinct and energetic character as you journey from Saigon in the south up to Hanoi in the north. Explore the country's turbulent past, meet the friendly, resilient locals and get lost in spectacular panoramas on this tour of discovery.
View all Hoi An tours
Places to see in Hoi An